---
The poster (email) is not available. 收藏推荐:
---
图书介绍
International Handbook of Research on Teachers and Teaching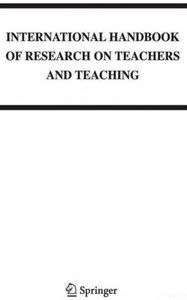 This Handbook provides a fresh look at the ever changing nature of the teaching profession throughout the world. This collection of over 70 original articles addresses a wide range of issues that are relevant for understanding the present educational climate in which the accountability of teachers and the standardized testing of students have become dominant.
The international collection of authors brings to the handbook a breadth of knowledge and experience about the teaching profession, and a wealth of material across a number of comparative dimensions, such as between developed and developing countries, and Eastern and Western cultures. In addition, many articles address the emerging challenges to education and to the lives of teachers which are brought about by the globalization trends of the 21st Century.
The handbook focuses on the following general topic areas:
? Theory and Research on Teachers
? Becoming a Teacher
? Characteristics of Teachers
? Teacher Behaviors
? Teacher Life Cycle
? Theories of Teaching and Learning
? Teaching in Classrooms
? Teaching Specific Student Populations
? The Teaching of Individual Subjects
? Great Debates about Teachers and Teaching
The handbook is written for students and researchers in the fields of education, the social sciences and the behavioral sciences. In addition, it is a valuable resource for policy-makers who want knowledge and insights based on the latest research findings. Many author recommendations are relevant for the development of educational reform policies in both developed and developing societies.
Table of contents
1. Introduction: New Perspectives On Teachers And Teaching - Lawrence J. Saha, A. Gary Dworkin
II Introduction to the Study of Teachers
2. Teachers in History - W. Robert Houston
3. Trends in Research on Teaching: an Historical and Critical Overview - Margaret D. LeCompte
4. Teacher Research and Teacher as Researcher - Cheryl J. Craig
5. The Dissemination of Knowledge about Research on Teachers, to the Teachers - Lawrence J. Saha
6. Social Science Theories on Teachers, Teaching, and Educational Systems - Jeanne H. Ballantine, Joan Z. Spade
7. Developments in Quantitative Methods in Research Into Teachers and Teaching - John P. Keeves, I Gusti Ngurah Darmawan
III Becoming a Teacher
8. Teacher Preparation Programs - Kathryn M. Borman, Elaine Mueninghoff, Bridget A. Cotner, Phyllis Bach Frederick
9. Teacher Certification and Credentials: From a Focus On Qualification to a Commitment to Performance - Scott Imig, Stephen Koziol, Virginia Pilato, David Imig
10. The Continuing Education of Teachers: In-Service Training and Workshops - Robert V. Bullough
11. The Role of Mentors of Preservice and Inservice Teachers - Jo Blase
12. The Lifelong Learning Issue: The Knowledge Base Under Professional Development? - Bruce Joyce, Jim Wolf, Emily Calhoun
IV The Characteristics of Teachers
13. The Status and Prestige of Teachers and Teaching - Linda Hargreaves
14. The Political Orientations of Teachers - Mark B. Ginsburg, Sangeeta G. Kamat
15. Dimensions of Quality in Teacher Knowledge - Michael J. Lawson, Helen Askell-Williams, Rosalind Murray-Harvey
16. Teachers' Values in the Classroom - Clodie Tal, Yoel Yinon
17. Footnotes to Teacher Leadership - Mark A. Smylie, David Mayrowetz
18. Sex Segregation and Tokenism among Teachers - Barbara J. Bank
V Teacher Behavior
19. The Classroom as an Arena of Teachers' Work - Margaret Freund
20. Teachers and Democratic Schooling - Thomas Kwan-Choi Tse
21. Teachers and Parents - Mavis G. Sanders
22. Teacher Commitment - Nordin Abd Razak, I Gusti Ngurah Darmawan, John P. Keeves
23. Teachers' Beliefs about Student Learning and Motivation - Julianne C. Turner, Andrea Christensen, Debra K. Meyer
24. Teachers and the Politics of History School Textbooks - Joseph Zajda
25. Teachers' Emotion Regulation - Rosemary E. Sutton, Elaine Harper
26. Principal and Teachers Relations: Trust at the Core of School Improvement - Pamela R. Hallam, Charles Hausman
27. Teacher Misbehaviour - Ramon (Rom) Lewis, Philip Riley
28. School Administrator Mistreatment of Teachers - Joseph Blase
VI Teacher Life-Cycles
29. Tracking Teachers - Sean Kelly
30. Teachers' Work, Power and Authority - Terri Seddon, Phoebe Palmieri
31. Teachers as Professionals: Salaries, Benefits and Unions - Nina Bascia
32. Teacher Burnout and Teacher Resilience: Assessing the Impacts of the School Accountability Movement - A. Gary Dworkin
33. Teachers and Promotion: Research Evidence on the Role of Gender, Career Intentions, Promotion Criteria and Teacher Satisfaction - Ping-Man Wong
VII Teachers and Teaching in Comparative Perspective
34. Teachers in Comparative Perspective - Anthony Clarke
35. Comparative Perspectives On Teachers, Teaching And Professionalism - Mark B. Ginsburg, Nagwa M. Megahed
36. Teachers and Teaching in Eastern and Western Schools: A Critical Review of Cross-Cultural Comparative Studies - Yanping Fang, S. Gopinathan
37. Teachers and Teaching in Africa - Lawrence Chi Awasom
38. Greek Cypriot Teachers and Classroom Diversity: Intercultural Education in Cyprus - Elena Papamichael
VIII Dimensions of Teaching
39. Three Sides of Teaching: Styles, Models, and Diversity - Bruce Joyce, Emily Calhoun
40. Creating Productive Learning Environments in Culturally Pluralistic Classrooms - Revathy Kumar, Stuart A. Karabenick
41. Justice in Teaching - Nura Resh, Clara Sabbagh
42. Ethics and Teaching - Clara Sabbagh
43. Teacher Expectations and Labeling - Christine Rubie-Davies
IX Teaching in Classrooms
44. Teacher?Student Interaction - Joshua M. Englehart
45. Assessment and Examinations - Susan M. Brookhart
46. Classroom Management - Barbara Landau
47. Teachers as Role Models - Wayne Martino
48. Teaching in a Multicultural Classroom - Kerri Ullucci
49. Teaching in Large and Small Classes - Peter Blatchford, Anthony Russell, Penelope Brown
50. Teaching and Learning in the Ict Environment - Bronwen Cowie, Alister Jones
51. Effective Teaching: an Emerging Synthesis - Thomas L. Good, Caroline R. H. Wiley, Ida Rose Florez
52. Teaching and Nonverbal Behavior in the Classroom - Elisha Babad
X Teaching Specific Student Populations
53. Teaching at the Secondary Level - Floyd M. Hammack, Dana M. Grayson
54. Teaching at Tertiary Level - Linda Hort
55. Teaching for Technical and Vocational Education and Training (TVET) - Hugh Guthrie, Roger Harris, Michele Simons, Tom Karmel
56. Teaching Students With Special Needs - Bruce Allen Knight
57. Teaching Gifted and Talented Children - Martina Endepohls-Ulpe
58. Teaching ?at Risk? Students: Meeting Their Needs - Ramon Lewis, Tricia McCann
59. Teaching Indigenous Populations - Rodney A. Clifton
60. Single-Sex or Coeducational Classes - Peter W. Cookson
61. Teaching and the Boy Problem - Rob Gilbert
XI The Teaching of Individual Subjects
62. The Teaching of Reading - Barbara R. Foorman, Kristi L. Santi
63. Teaching History - Joseph Zajda, John A. Whitehouse
64. Teaching Mathematics - Michael L. Connell
65. Teaching Science - John P. Keeves, I Gusti Ngurah Darmawan
66. Teaching About Political and Social Values - Murray Print
67. Conditions for Promoting Moral and Prosocial Development in Schools - Alan J. Reiman
68. Teaching a Second Language - Sharon H. Ulanoff
69. Teaching in Arts Education - Peter Wright
70. Research on Teaching Health and Physical Education - John R. Todorovich
XII Great Debates about Teachers and Teaching
71. Keeping Track or Getting Offtrack: Issues in the Tracking Of Students - Lynn M. Mulkey, Sophia Catsambis, Lala Carr Steelman, Melanie Hanes-Ramos
72. High Stakes Testing and Teaching to the Test - Gary Natriello
73. Value-Added Models of Teacher Effects - Pamela F. Tobe
74. Teachers and Teaching During Educational Restructuring and Reforms - Patrick J. W. McGinty
75. Grade Retention Redux: A Dissenting Perspective - Jon Lorence
76. Teachers and Teaching in an Era Of Heightened School Accountability: A Forward Look - Lawrence J. Saha, A. Gary Dworkin
http://hotfile.com/dl/26382542/f400dc4/B099.rar.html
[Directly Download] International Handbook of Research on Teachers and Teaching!
Download this book
Free download ezdownloader, then you can free download.
Download "International Handbook of Research on Teachers and Teaching"
使用ezdownloader下载

Copyright Disclaimer:
本站一切内容源于互联网搜索,禁止商用! 如有任何不妥请联系:admin@ebookee.com,我们将在24小时内删除相关内容。
浏览量:
6
添加时间:2010-01-31 14:07:17, 更新时间:2010-01-31 14:07:17, from internet
---
搜索该书!...
Search mirrors of
"International Handbook of Research on Teachers and Teaching"
...
---
下载链接
Free Magazine Subscriptions & Technical Document Downloads
推荐:使用EZdownloader下载电子书
没有下载链接
请在图书介绍里查找下载链接,如果没有,可以试着搜索有无其它该书信息。
不能下载?
如果不能下载或者在"图书介绍"中找不到
"International Handbook of Research on Teachers and Teaching"
的下载链接请留言。下次访问本站时察看
所有留言
看是否有人已经更新了该书。
该书可能有其它下载链接,请点
这里查询相关图书
。
---
相关链接
"International Handbook of Research on Teachers and Teaching" 相关链接:
---
Comments
"International Handbook of Research on Teachers and Teaching" 没有评论.
Leave a Comment
如果没有下载链接或者下载链接无效,请查看相关链接或者搜索相关资料。